Deceitful Hearts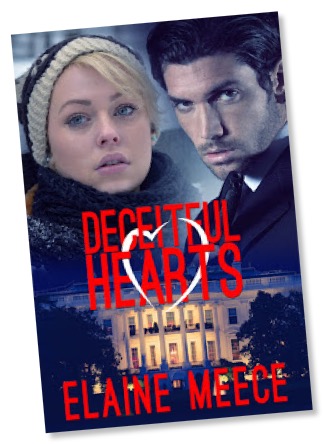 Available on Amazon.com
(paperback and Kindle eBook)
ISBN-10: 151438535X
ISBN-13: 978-1514385357

Deceitful Hearts
Amanda Marsh is swooped off of her feet by Secret Service agent, Brett Summers. The man isn't just smart, but is so hot. The serious minded agent sees her as his protectee, no more.

After her protection is mysteriously pulled, there's an attempt on her life. Unsure of who to trust, she shows up at Agent Summer's hotel.

Agent Brett Summers is concerned for Ms. Marsh. The President's daughter didn't have the agents pulled, so who at the White House did? One thing for sure, someone wants her dead and will try again.

Rather than follow orders to take her home, he disappears with Amanda to keep her safe.

There's a problem.

He wants Amanda.

But if he takes her to bed, his career will be over.
---
For more info, check out my Author Page on Facebook